Report on International "Qpedia" Encyclopedia and Al-Saha TV Channel Visit to Sheikh Mohammed Bin Musabah Museum as part of their Tour to Al-Baha Region
on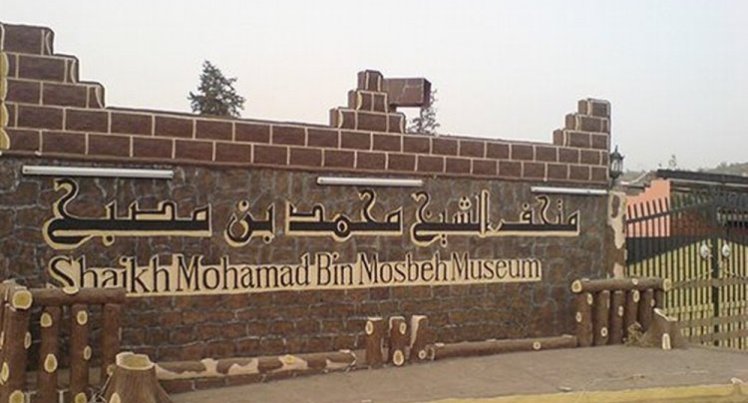 Located in Baljurashi town, Sheikh Mohammad bin Musabah Museum, may Allah have mercy on his soul, is a primary destination for heritage and archeology lovers. It stands as a paradigm of a distinctive museum that houses a vast range of artifacts showcasing the culture of Al-Baha region.
Sheikh Mohammad, the chief of Baljurashi tribe, embarked on collecting these artifacts a little over three decades ago. He has established this museum at his own expense, which was inaugurated by the former Governor of Al-Baha region His Royal Highness Prince Mohammad bin Saud, may his soul rest in peace.
"It is a destination for all visitors to the region. It was visited by a number of princes, officials, ambassadors, consuls representing countries worldwide, ministers, foreign government missions, university, institute and school students and heritage and archology lovers in the Kingdom and elsewhere", said of the museum Mansour bin Musabah, the Museum Director. "The [Museum] is divided into seven different exhibition halls, each with a special set of collections" he added.
The first hall exhibits antique doors and windows plated with tar for protection against erosion and damage inflicted by insects. Next to the durable doors and windows are some instruments known as Al-Miqatar, a tool used for smelting the trunks of Al-Atm tree to extract tar and murky oil; Al-Keer, used for carpeting; Al-Dias stone, used for grinding wheat; and Al-Mojassam, a tool used in ancient times to lift water from wells and is made of thirteen wooden pieces assembled vertically and horizontally.
The second hall showcases agricultural tools, for plowing and irrigation, and different types of grains. It offers the museum guests an illustration of the most prominent types of grains produced by the region, including corn, wheat, barley, and other crops. Antique weighing scales can also be found.
The third hall displays a variety of utensils dating back to more than 250 years; leathers; spinning tools; silverware bending tools (jewelry); carpentry tools; dishes for serving traditional meals; ancient furniture and antique 1,000-year-old metals transported from Ashim village mine.
While heading to the fourth hall, guests could stop by an ancient mosque along the main hallway of the museum, which is decorated by almond and apricot trees as well as stuffed animals that were used for plowing or transporting.
The fourth hall is divided into four sections:
Section one is where ceramics of all kinds are displayed. Section two, the Ancient Al-Baha House, manifests how an ancient house would look like; one that is built with a bride room equipped with all essentials such as clothes, jewelries, a bed and a Mabkhrah (a censer for burning incense to give a pleasant smell to one's clothes). Section three consists of the bridal dais, a stage on which the bride traditionally sits on her wedding night. Section four is where the kitchen is exhibited, with various important tools in addition to flashlights, lanterns and space heaters.
The fifth hall contains old books and pictures narrating the history of Saudi Arabia and depicting Saudi monarchs visiting Al-Baha region. Books and pictures of this kind give an illustration of what Al-Baha region used to be like in the past. This exhibition hall has a set of old machines, including radios, televisions, telephones, cameras and some musical instruments.
The sixth hall symbolizes the hospitality and generosity of the region's inhabitants. It includes coffee tools such as Dallah, a traditional pot used to serve coffee, Dafoor, an old gas cylinder, clay and wooden cocking utensils and large copper pots.
The seventh hall is where old weaponry is stored, including rifles, swords and Janbias (daggers).
"The museum attracts a great number of visitors during summer. We hold many heritage-related events and activities that tell stories of our beloved Kingdom's history and glories", Ibn Musabah said, pointing out that the national and private museums are "incorporated into Vision 2030, which encourages us to improve the museum and add more rare artifacts".